Contact
Tele.
:
0086-0758-3611611
Mobile:
0086-18220830247
Emai
:
dongtai1688@hotmail.com
ADD.: 30m east of exit of
Sihui highway,Sihui City,
Guangdong,China
Site Notice
Current Location
Experts recommend the kunlun jade identification method
Author:admin From:rrr Click:664 Add-Time:2015/3/25 11:51:13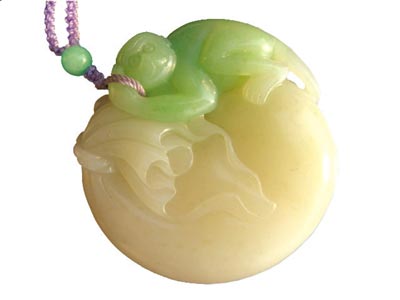 Qinghai nephrite jade pendant
The ordinary people lack of the cognition of the kunlun jade are increasingly become the main consumer groups of kunlun jade. Experts point three tips, first tip: not covet the cheap price.Kunlun jade production is few with high price,the Chinese old saying"the goods and its price is connected".Merchants propaganda should carefully listen to, when the price is too low, be careful, you may buy a fake.With finner workmanship,the price is higher, and more collectable values.Here introduce three methods below: The first method: it is not clever to consider about price too much. Kunlun jade production is few,the price is high.Publicity of jade is hard to tell if the price is too low, be careful should not buy fake kunlun jade.
The second method:kunlun jade are varied,consider if craft modelling is of artistic charm.The finner craft the higher of price,the more collectable.Good carving is normally based on good jade material, include painting, carving, grinding,and so on hand-made craft.Jade carving master based on differentjade material, design different pattern, such as different colour on jade to carve lotus plants or carp design, or carve a lively character.Usually good white square are more than 1000yuan, modelling is harmony, carving is fluency with smooth lines.
The third method: kunlun jade texture.The key factor that determine the price is of jade material class,not only determine its usability and ornamental value, but also the key of its collection appreciation.Materials identification,first to view the hardness of jade, jade hardness is higher than glass, when choose the jade for purchase, people may test scratch hardness of jade by glass.
Then is to view the light-admitting quality, kunlun jade are also called tremolite, under the irradiation of light,you can view the inside of the jade as cotton fiber weaving structure, jade products are determined by crack and impurities, good jade are pure in color and soft.